Previously Known as Mike's Tree Service Anniston,
Barksdale's Services Offers Customers The Same High Quality Service
Tree Service in Calhoun County, AL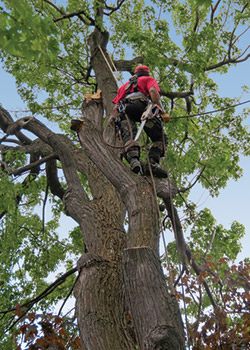 Barksdale's Services is your local source for professional tree service in Calhoun County, AL and Anniston, AL. We've been providing comprehensive tree services since 1978 and are well equipped both mentally and physically to help you with any and all of your tree-related needs. Call us today to speak with one of our knowledgeable arborists!
If you've been searching for encompassing tree service in Calhoun County, AL, let your search end here. Barksdale's Services has been proudly serving all of the arborist needs of people in Calhoun County for more than thirty years. As your local certified and fully insured tree solution experts, we're committed to providing only the highest quality work for your convenience and complete satisfaction. We offer a wide variety of tree services including but not limited to tree trimming, tree pruning, tree removal, tree stump removal, stump removal, foliage maintenance, tree health consulting, tree planting, tree structural training and root care.
Comprehensive Tree Services
No matter if you're looking for emergency tree removal service or you're just looking for advice as to how to keep your tree healthy and full, we're the place to call for help! We have been your local full service tree contractor, trimmer, pruner and more in Calhoun County, AL for over 30 years, and we're proud to say that we have all the answers to your tree-related questions! We can provide our comprehensive tree services to commercial customers, and we're committed to improving the health of the trees in our community. Interested in learning more about what we have to offer? Take a look at why people choose us for their tree maintenance and tree removal in Calhoun County, AL:
We offer 24-hour emergency tree services in Calhoun County, AL.
We are certified and insured to provide tree removal service in Calhoun County, AL.
We are a proud member of the Chamber of Commerce in Anniston.
We have been serving the tree care needs of people in Calhoun County since the late 70s.
Our Services Include:
Proudly serving all of your tree service, tree care, tree pruning, tree stump removal, stump removal,
We Offer Power Line Trimming
We Offer Substation Maintenance
and all other arborist needs in Calhoun County, AL including cities such as:
Anniston
Saks
Oxford
Alexandria
Wellington
Jacksonville
Piedmont
Ohatchee
Heflin
Glencoe
Gadsden
Attalla
Rainbow City
Southside
Centre
Borden Springs
Lincoln
Bynum
White Plains
Pell City
Ashville
and more.